I've done more work on the "Canals on the Port Lands" idea that I represented during the July 23-24, 2014 Shipping Channel Charrette organized by City Planning - and in all the phases of the Port Lands Acceleration Initiative (PLAI) public consultation process.
The idea is to pinpoint the most effective and sustainable starting points and routes of possible bioswale-edged, open-water canals extending from the existing flow basins north of Eastern Avenue, and extending them south down to the lakefront such that they mimic natural water courses (that still exist in stratification under modern fill) as part of a storm-water/water-table management system on a redeveloped Port Lands and nearby environs.
This storm water management system would be associated with Green Streets and could then be developed as transportation corridors (including connection points for swing-aside, floating bike bridges across the great barrier to north-south transit, the Shipping Channel), and many other recreational opportunities - and - would be a landscape feature that would greatly increase the sense of well being and general health of existing and planned communities in the Port Lands and environs.
This new feature will also greatly increase the value of those lands via the features' visual magnificence. As well, bioswale-edged, open-water canals would completely remediate the Port Land's brownfields (toxic, polluted land) over time.
This storm water management system would reflect the natural history of this place; and this is essential in this era of rising global temperatures and the effect that has in increasing the rate of extreme storm events which will cause storm-surge cresting in Toronto's (now mainly buried and redirected into sewers), natural drainage flow-ways.
The Process of Discovering the Buried Rivers of East Toronto
Since the Shipping Channel Charrette I've done walks of an area bordered by the Don River, Hogarth Ave, Woodfield Rd and Lake Shore Boulevard. Focusing on the landscape proximate to Eastern Avenue, I have aimed to understand the coarse of these river under the modern street grid from their mouths on the historical Ashbridge's Bay all the way to their headwaters - often well north of Danforth Avenue.
I've used historical research, landscape observations; historical maps; historical Ashbridge's Bay depth sound maps and historical and modern contour maps.
These creek and river valleys reveal paleontological underground topographic forms created by run off in the last ice age (as well as glacial scraping) now buried under more recent sedimentation and later modern fill, in the South of Eastern area of the Port Lands Acceleration Initiative (PLAI) study area.
The Post-Glacial Drainage System of Toronto
The topography of Toronto is characterized by flutes in the landscape that run from northwest to southeast.
These flutes were formed as the Laurentide Ice Sheet retreated towards the northwest in this region about 13.000 years ago. The run off from this late phase of glaciation in the last ice age created these flutes that are arranged approximately 1 km apart across the southern Ontario region. They are evident on the landscape still - even under the urban built form and street grid layered on top of them. They can be seen on the landscape as a series of rises and valleys we know as the Ravines.
Map of Flutes and Drumlins in West Toronto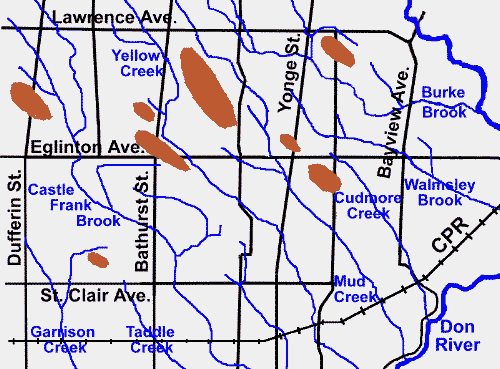 (Via
Lost Rivers
-
http://www.lostrivers.ca/content/points/drumlins.html
)
These ravines are a fingerprint of the last glacial age, and mark the beginning point of the re-creation of the living biosphere here - and coincidentally, the re-habitation of this place by prehistoric humans. As such, they are key to the historical culture of this place and the future sustainability of development in this place.
The Ancient Creeks and Rivers of the South Riverdale Drainage System
On an historical contour map of East Toronto from 1921, I've drawn in blue lines along routes which the contour lines indicate are valleys in South Riverdale. I've also added labels along the left and bottom edge of this map to indicate the approximate position of the modern street network.
(Via University of Toronto Libraries - Don Valley Historical Mapping Project - Contour map of Toronto district - Lazenby, Paul H.; Toronto Transportation Commission,1921 - Call Number: G3524.T6 C222 19 1921 R - http://maps.library.utoronto.ca/dvhmp/maps.html)
(Disregard the furthest east conjecture - that one's just wrong. :)
The best modern contour map I could find of East Toronto is from the Natural Resources Canada,
GeoGratis (v2.0)
; Search: "Toronto, York, Ontario (City)", Subject Keywords: "contour, map,". The image below is a cropped version of the pdf contour map of Lake Ontario bottom, which includes a base map of Toronto that has a fairly good modern contour grid on it.
To better pinpoint the location where these rivers and creeks drained into historical Ashbridge's Bay, I used this depth sound map from 1912 that shows the depth of the Ashbridge's Bay swamp at various points measured using a sounding weight. These depth measurements allow one to understand the underwater (now under landfill) soil stratification as well as the various flow rates of the rivers and creeks.
A recent TRCA contour map shows the regulatory flood plain north of the Port Lands in the South of Eastern area (Spill Zone 2). One can see low points (contours that drive north of the general latitude of the flood plain's northern border) where ravines once likely ran with rivers.
The map shows multiple ravines near Jones, Rushbrook and Curzon indicating possible canal route at Leslie St on the Port Lands; at Geenwood, Highfield, Woodfield and Hiawatha a series of ravines indicate a possible canal in the South of Eastern area south of Jonathan Ashbridges Bay Park, and then south just east of Coxwell Ave down to present day Ashbridge's Bay.
Softer juts north (likely due to high amounts of landfill/landscaping) indicate valleys at Heward, Pape/Winnifred, Caroline/Larchmount - indicating possible canal route along the east side of the Turning Basin on the Port Lands. Contours of the flood plain indicated by long dives northward at Lewis and Saulter indicate another possible bioswale-edged, open-water canal at near McCleary Park on the Port Lands.
TRCA - Lower Don River Regulatory Flood Plain - Spill Zone 2 Diagram
TRCA - Lower Don River West Remedial Flood Protection Project Environmental Study Report | p. 1 - Figure 1.1 - Regulatory Floodplains along the Lower Don River (http://www.trca.on.ca/dotAsset/25780.pdf)
With the aid of a 1902 Map of East Toronto that indicates the position of valleys and rivers at that time ...
.. I have transposed the position of the now underground rivers which once flowed into the Ashbridge's Bay lowlands onto a Google Map which includes a modern street grid layer. These four sources layered together provide a very accurate picture of where the lost rivers of East Toronto run under the modern built form, and where they drained into historical Ashbridge's Bay.
South Riverdale Drainage System Google Map
View
South Riverdale Drainage System
in a larger map
(This is an ongoing project - walking the neighbourhoods to identify the valleys under the street grid is essential to understanding the paths of these rivers under landfilled urban built form - to date (April 2015) I have walked the entire extent of the Caroline/Larchmount River, the Leslie Grove Park River; walked the south of Danforth section of the Greenwood Brickworks River, and south of Gerrard section of the Ashbridge's Creek - thus - at the time of this publishing, lines on the Google Map outside of these walked areas might not be particularly accurate.)
The light Blue line is the planned extreme crest spillway for a naturalized mouth of the Don River. The north-south avocado-green line represents a PLAI vision - a 'Green Gateway' to the beach on Cheery Street below the lift bridge. The two east-west avocado-green lines represent PLAI's visioned bioswales along those roadways.
To this point (April 2015) I have walked the street grid attempting to identify the coarse of the following rivers and creeks (I've named them, or where historical sources provide, used those names):
Caroline/Larchmount Creek* (headwaters starting in the Millbrook Crescent/Ingram Ave hollow - and a tributary under Withrow Park; down to Carlaw/Gerrard, under Dundas/Boston Ave, Queen/Pape and into Historical Ashbridge's Bay at Eastern between Caroline and Larchmount - currently, modern landfill that makes up the back lot of Revival 629 Movie Studios shows evidence of the river under ground there continuing south to the Lower Don Recreation Trail - I believe the Lake Shore Boulevard acts as a dam at that point, which has created wet topography there which is supporting a grove of willow trees);
Leslie Grove Park River (Wroxeter/Pape, under Gerrard Square, Marjory Ave, Leslie Grove Park and entering historical Ashbridge's Bay at Eastern/Leslie St - under Loblaws' north parking lot - which is landfill);
the southern reaches of Greenwood Brickworks River (Sammon Ave/Donlands, under The Only Cafe at Danforth, Phin Ave Park, the TTC Greenwood Yards, Greenwood Park, Maple Leaf Forever Park and into ancient Ashbridge's Bay at Eastern Avenue);
and the south reaches of the Ashbridge's River (starts under Greenwood Secondary School, and a tributary under Robertson Parkette - 1549 Danforth, west of Coxwell/Danforth - then under Monarch Park Collegiate Institute, Hiawatha/Gerrard, Dundas near Highfield Rd, under Duke of Connaught Junior/Senior Public School, S.H. Armstrong Community Centre, under that huge willow tree in Ashbridges Estate Park - 1444 Queen Street East; and then under TTC Russel Yards to Eastern where it drained into historical Ashbridge's Bay).
_________
* What I'm calling the Caroline/Larchmount Creek, "Lost Rivers" website is calling the Heward /Holly/Mill Brook Creek.

From Schedule of Planned Walks (accessed April 2015):


Sunday, February 15, 2015, 2 pm – Mid-Winter Walk in Riverdale: Heward /Holly/Mill Brook. From Leslieville to Playter Estates, we'll tour the first major lost creek east of the Don. Long buried, this stream with several names once scored the landscape, creating the contours of Withrow Park. And it inflected our narratives of the East End, from brick-works and needle trades to coffee shops and dog parks. John Wilson and Joanne Doucette (author of Pigs, Flowers and Bricks: A History of Leslieville to 1920) invite you to share neighbourhood scenes and stories. Meet at Queen and Pape; end at Carrot Common near Chester subway station.
See my Google Map, "
South Riverdale Drainage System
" to check out the routes of these and more East Toronto Lost Rivers (also embedded above).
A Dialectic of Benefits
These water coarse would be positioned starting where historical rivers and creeks once flowed across the landscape - as these natural geological places mark low points in still existing drainage basins - now under unstratified fill.
This specific bioswale-canal placement will help drain storm water in the most efficient manner possible; an important consideration when understood within the context of higher than normal lake levels and a higher rate of extraordinary flood events due to apparently, unabated human caused, carbon loading of the atmosphere which is leading to warmer global atmospheric temperatures leading to glacial and polar ice cap melting.
Alongside these bioswale edged canals might be constructed "Green Streets" - which drain their storm water into the proximate 'new-form' storm water drainage infrastructure. These green streets are key in the lowland Port Lands area as sewer systems will need to be above the lake level - plus, this kind of storm water management is much cheaper than conventional storm water management systems using buried pipes. As well, this bioswale canal storm water management system would be much cheaper to maintain than conventional systems.
New Green Streets roadways would parallel existing (currently underground) water courses (which define the most effective locations for a bioswale coarse) which are in turn, defined by low points in the natural drainage basins - which are identified by the known coarse of historical creeks and rivers.
In some cases this approach might present opportunities to extend these bioswale edged Green Streets north of Eastern into the existing neighbourhoods - which would dramatically increase the value of these properties - both in that drainage would be better and thus ground water levels would be consistently lower (thus less or no basement flooding) and the effect of the resulting green spaces would increase the value of the land in a spiritual sense - homes adjacent to, or with a view of these bioswale canals, would accrue in value in the market place.
The new-form water management infrastructure would create a lower water table and reduce (perhaps eliminate) instances of wet basements and flooding in the existing urban built form there; thus increasing land values and development opportunities just north of Eastern Avenue - land that has had historically depressed value compared to nearby land on slightly higher elevation.
This base infrastructure on the Port Lands proper would at once create visual benefits, transportation, recreational opportunities, livable neighbourhoods, health and well being, plus brown-field decontamination and higher land values immediately as well as increasingly over the long term.
I believe that in order for this concept to be effectively deployed it has to be a prominent feature in the Port Lands and South of Eastern Transportation and Servicing Master Plan.
I have tried to include these ideas - only in their infancy at the time - over the two days of the July 2014 PLAI Charrette; but also in my web submission after attending the first public consultation in the fall 2013 - the "Port Lands and South of Eastern Public Meeting #1" (November 28, 2013, at Riverdale Collegiate).
Mapping these ideas:
More on these natural water coarse as part of a transportation visioning for short, medium and long term connections from the neighbourhoods to the waterfront - all plotted on a Google map with the map's Place Mark notations listed in the blog:
Ward 30 Bikes
-
Thursday, July 24, 2014
|
'Idea Mapping' the Shipping Channel Charrette
|
http://ward30bikes.blogspot.ca/2014/07/the-shipping-channel-charrette-july-23.html
Bioswale Links:
OMSI Parking Lot Swales - The City of Portland, Oregon [PDF] |
https://www.portlandoregon.gov/bes/article/78489
Sustainable Horticulture | Green Streets/Bioswales/Rain Gardens |
http://www.sustainablehort.com/?p=177
United States EPA | What is Green Infrastructure? / Bioswales |
http://water.epa.gov/infrastructure/greeninfrastructure/gi_what.cfm#bioswales
PLAI Links:
Port Lands Acceleration Initiative: Home |
http://www.portlandsconsultation.ca/
Port Lands Planning Framework, July 23-24 2014 Charrette Summary |
http://portlandsconsultation.ca/sites/all/themes/portlands/files/Port%20Lands%20Charrette%20REPORT.pdf
Michael Holloway
Resident, Leslieville, Toronto
Member, Ward 30 Bikes,
Cycle Toronto
PLAI SAC
mh